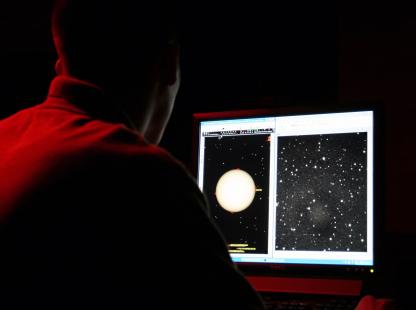 Transfer Information • Credit By Examination Info
Transfer Students
If you are a transfer student and require a Physics course to be reviewed for transfer credit, you must provide the following documents:
A copy of the unofficial transcript showing the grades.

An official course syllabus or outline for each Physics course you are requesting transfer credit. Only a grade of C and above will be considered for transfer.
Bring the required documentation or email it to Donald James located at 463 Tiernan Hall, Monday through Friday, 9:00 am - 4:00 pm, email: djames@njit.edu
Transfer credit will not be considered unless these documents are received. It is the student's responsibility to ensure that the official transcript gets sent to the Office of University Admissions.
If the student needs a permit for a Physics course, you must apply online at: http://physics.njit.edu/permits/
---
For a complete listing of NJ Community College transfer equivalencies, go to:
https://www.njtransfer.org/
---
Credit by Examination (CBE) Procedures
For credit by examination consideration, the student must first consult with the Chair of the Physics Department.
Dr. Andrew Gerrard
101 Tiernan Hall
973-596-3567
---
PHYS 122 CREDIT BY EXAMINATION (CBE) PROCEDURES
→ CLICK HERE FOR THE PHYS 122 COURSE CREDIT BY EXAMINATION FORM FOR SUMMER 2024 ←
Before the student takes the exam, they must be certain to meet the criteria and complete all of the steps as outlined in the link above.
Meet the PHYS 122 credit by examination criteria.
Follow the Physics Departmental Examination procedures.
Complete an Application for Credit by Examination Form (form must be completed & fee paid prior to the exam).
All documentation must be emailed to Christine Oertel oertel@njit.edu and Donald James djames@njit.edu. Students will not be able to take the exam until these documents are received.
Once the form and bursar receipt are received, the student will receive further details about the exam which will be administered on campus and in person.
If the student meets the criteria, the student will take the credit by exam in mid-August.
The credit by exam will be a comprehensive exam equivalent to the Final.
Exams will be 2.5 hrs in duration.
The credit by exam is PASS/FAIL, the student will not be given a grade.
The credit by exam does not include the lab component (eg: PHYS 111A). The lab can be taken over the Summer, Spring or Fall semester. 
A PHYS 122 course syllabus, with a list of the course recitation assignments, can be obtained from Prof. Andrew Gerrard or Prof. Lindsay Goodwin.
Link to all Physics Syllabi: https://digitalcommons.njit.edu/phys-syllabi/
---
9-26-23